Massachusetts Social Security Disability Lawyer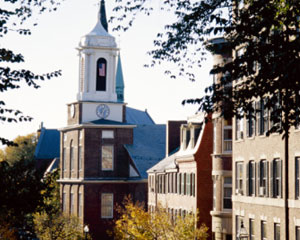 The Social Security disability claims process in Massachusetts begins with an initial application, which one can start by simply going onto the Social Security Administration's website (at www.ssa.gov) or by calling the Social Security Administration's toll free number (at 1-800-772-1213). One can also begin the process by contacting their local Social Security office in Massachusetts or by using the Social Security field office locator. However, because the Social Security Administration is not allowed to provide you with legal advice it may be advisable for you to consult with a social security lawyer that specializes in Massachusetts Social Security Disability Claims first before starting your application so as to put your best foot forward on your initial application and avoid what may be a multiple appeal process. Should one face an initial denial, it is not unusual to go through what can be a 2 year appeal process (or longer).
In Massachusetts, if one is denied on their initial application (which process can take anywhere from what is ordinarily 2 to 6 months), one has a right to request reconsideration (which must be undertaken within 60 days from the date you receive your denial letter, which is assumed to be within 5 days from the date on the letter). At the reconsideration stage, your file will be referred to Disability Determination Services (DDS) in Boston, MA or Worcester, MA (the state agency responsible for evaluating disability cases both when one files their initial claim, as well as when one reaches the reconsideration stage). DDS in Massachusetts will obtain updated treatment records, may request that you complete additional forms concerning how your disabling condition affects you and may even send you to one of their doctors who will undertake an evaluation so as to further determine the severity of your condition. The Reconsideration process can take anywhere from 3 to 6 months and has a very high denial rate. Unfortunately, if one is denied initially, there is no way to get around the need to request reconsideration and go through this appeals process first.
Assuming one receives a second denial, it will be necessary to undertake a request for hearing before an Administrative Law Judge (again, within 60 days from the date you receive your second denial). in Massachusetts, the present wait for a hearing is approximately 12 months from the time the Social Security Administration receives your request for hearing. Your file will be transferred to the Office of Disability Adjudication and Review in either Springfield, Massachusetts or in Boston, Massachusetts. The Boston, Massachusetts hearing office presently has thirteen (13) judges assigned to hold hearings: Daniel Driscoll (Chief), Constance Carter, Paul Carter, Stephen Fulton, Joel Gardiner, Paul Goodale, Henry Hogan, Francis Hurley, Robert Kelly, James Packer, William Ramsey, Carol Sax and Sean Teehan. Depending on where you reside, you may likewise see your case heard at either the Lawrence, Massachusetts ODAR or the Springfield, Massachusetts hearing office. The Lawrence ODAR office presently has seven (7) judges assigned to hold hearings: Jonathan Baird (Chief), Timothy Belford, Joan Benson, Ellen Bush, Brian Curley, Erik Eklund and Joshua Menard. The Springfield ODAR office has seven (7) judges assigned to hear cases: Addison Masengill (Chief), Michael Breton, Leonard Cooperman, Kim Griswold, Brian LeCours, Peter Martinelli and Judith Stolfo. Should your case need to proceed to the hearing level, it still may not be necessary to go to a hearing. Depending on the particular case, it may be possible for your attorney to present a brief (that is, a written argument letter) in advance of hearing requesting that the hearing office in Massachusetts provide a favorable decision. Assuming your case does need to proceed to a hearing before one of the Administrative Law Judges in Massachusetts, the hearing office may attempt to schedule your case by VTC (video teleconference) if you do not reside within a reasonable distance of the Boston, MA or Springfield, MA hearing offices. Should this occur, you do have the right to object and request an in person hearing (which I would ordinarily suggest: I find that an in person hearing is much more personal and comfortable than appearing before a judge by way of a camera and television screen).
Should one show up at a hearing without representation, one will discover that the Administrative Law Judge in Massachusetts will be sure to advise you of your right to representation (and will attempt to provide you with every opportunity to obtain such representation prior to proceeding to hearing alone). Given a zealous and diligent attorney will ensure that the medical record is complete (and that any useful medical documentation, including assessments of one's ability to function is obtained), obtaining legal counsel in this process as early as possible is always in one's best interest.
CONTACT THE LAW OFFICES OF RUSSELL J. GOLDSMITH NOW TO SEE HOW WE CAN ASSIST YOU WITH YOUR INITIAL CLAIM OR APPEALS PROCESS. WE HAVE BEEN HANDLING MASSACHUSETTS SOCIAL SECURITY DISABILITY CLAIMS FOR 25 YEARS.