Augusta, Maine Social Security Disability Lawyer
Experienced Legal Representation for Augusta, Maine Residents in their Social Security Disability Claims and Appeals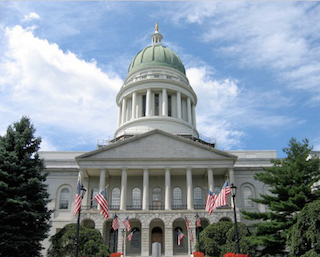 The Law Offices of Russell J. Goldsmith and Attorney Russell Goldsmith has been assisting Augusta Maine's long-term injured and disabled for more than 33 years with their Social Security disability claims and appeals. Whether you are considering an initial application for disability benefits or you are appealing a denial of a claim for the first, second or third time, getting the advice from a lawyer who is experienced and who specializes in these types of claims is critical to moving forward successfully.
At the time of your initial point of contact, we'll undertake a comprehensive analysis of your circumstances, looking into the nature of your disabling conditions, the treatment you're receiving (and have attempted in the past), the type(s) of work you've undertaken in the past, and seek information from you as to how your medical condition(s) impact(s) your ability to undertake various work functions. Doing our homework first allows us to provide you with a good bit of insight into why you might have been denied initially (or upon one of your appeals) or, if you have not applied for benefits as of yet, how you might fare with an application for disability benefits. Our goal is to provide you with the insight you need into whether Social Security disability benefits make sense for you in light of your individual set of circumstances, and if so, how you might best go about proceeding with your initial claim or appeal.
What you Should Consider Prior to Filing an Initial Claim
It is important to remember from an initial standpoint that the Social Security disability rules require one to show that they expect to be long-term disabled as a result of a severe medical impairment that, despite prescribed treatment, has kept them from earning gainful wages (what is presently deemed to be $1260 per month) on a regular and continuing basis. Thus, it is extremely important that one is in zealous medical treatment, undertaking appropriate treatment with specialists for any condition they believe is severe.
Many times, we find that our clients have difficulty obtaining the medical treatment they need as they are either without the necessary health insurance so as to receive the treatment they require for their conditions. MaineGeneral Medical Center (now, MaineGeneral Health) has a number of financial aid options to those individuals who are without insurance and do not have sufficient funds to pay for their medical services. One such program they participate in is called the Care Partners Program. As you will note, this program provides very reasonable copayment charges for medications and office visits, with labwork, x-ray and hospital services provided free of charge. The program is made possible by medical providers who have agreed to participate in this charitable health care program. Additional options for health care include an application for Mainecare insurance (disabled status) through the local DHS (Department of Human Services) office of Mainecare services located at 242 State Street Augusta, Maine, or one can call them at (207) 287-2674. Finally, one can choose to speak with a representative at the Maine Consumers for Affordable Care office (a non-profit organization designed to assist individuals with finding out what insurance options are available for them, whether it be through the State, the Federal Government or otherwise): one should contact the Maine Consumers for Affordable Healthcare hotline at 1-800-965-7476 or go to their website for additional information as to how they might be able to assist you.
Unfortunately, in Maine, if you are denied on your initial application, it will be necessary that you undertake what is called a Request for Reconsideration within 60 days from the date of the denial. The reconsideration process carries with it a very high denial rate (over 80%), and it is quite common to receive yet another denial after a 3-6 month period of review. If you are denied once again, it will then be necessary to undertake a Request for Hearing before an Administrative Law Judge. Ultimately, a hearing will be scheduled through the Portland, Maine Office of Hearing Operations, located at One Portland Square, Sixth Floor, and a hearing may very well be held locally at their satellite office located at the Edmund Muskie Federal building in Augusta.
We've been providing advice and assistance to Augusta area residents for more than 33 years in their Social Security Disability Insurance and Supplemental Security Income claims. As we only get paid if we win, there is no reason to delay in contacting our office for a free evaluation of your case at 207-623-3500 or (800) 773-8622.
Law Offices of Russell J. Goldsmith
97 India Street, Second Floor
Portland, ME 04101
We service the Augusta, ME area, including but not limited to the following areas:
Chelsea, ME
Farmingdale, ME
Fayette, ME
Gardiner, ME
Hallowell, ME
Manchester, ME
Pittston, ME
Readfield, ME
Vassalboro, ME
Waterville, ME
West Gardiner, ME
Winthrop, ME
As well as the surrounding areas.