Lawrence, Massachusetts Social Security Disability Lawyer
Experienced and Zealous Representation in Your Social Security Disability Claim Out of the Lawrence, MA Area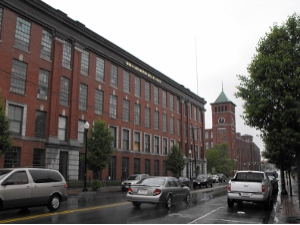 When you are suffering from either a serious and long term disabling injury or illness that is keeping you from returning to work, having the advice of an experienced and aggressive Lawrence, MA area Social Security lawyer is critical to both your emotional and financial well-being. Here at the Law Offices of Russell J. Goldsmith, we have been assisting those in and around the Lawrence area get the Social Security disability benefits they've worked hard for and deserve for more than 33 years. Whether you're in need of applying for the very first time for disability benefits and need the advice as to whether you have a viable claim, or you have been denied multiple times on your existing claim (or a past claim), we can help by analyzing your particular circumstances and by figuring out the best route for you to take.
How We Can Assist You
Many individuals first looking to apply for disability benefits remain unsure whether they will qualify for Social Security Insurance (SSDI) benefits (which is based on whether you have contributed to the SSDI system through your payroll taxes sufficiently) or for Supplemental Security Income benefits (which is a welfare benefit which may likewise be available). We can help evaluate which program may be suitable for you based on your circumstances. Likewise, we can assist you in determining whether it might be appropriate for you to seek additional interim assistance in the form of transitional assistance benefits through your local Department of Transitional Assistance office (where one might be deemed qualified to receive assistance in the form of health insurance, such as Mass Health, cash assistance, such as EAEDC (Emergency Aid to the Elderly, Disabled and Children), and food stamps). For 33 years, we have been assisting Massachusetts residents wind their way through the various benefits available should you become long term disabled.
As many people are aware, the Social Security disability claims and appeals processes can be complicated and cumbersome to get through without the assistance of an experienced professional. We are able to help you with your initial filing to ensure that you are putting your best foot forward (so as to provide you with the best chance of avoiding a denial and a lengthy appeals process). Even if you are denied at the initial stage, you will be able to rest assured that your claim has been presented carefully so as to avoid many of the pitfalls we frequently see taking place by those who choose to go it alone (or with the benefit of a less experienced or diligent attorney).
When you work with our office, your case will receive the personal care and attention it deserves; we always strive for you to obtain your benefits at the earliest possible opportunity. as we realize you are relying on us to take care of both you and your family. Should your case need to proceed to hearing before an Administrative Law Judge, you can rest assured that both you and your case will be prepared for hearing personally by Attorney Russell Goldsmith, who personally attends each and every hearing.
We treat our clients as individuals, and when you bring your case to our office, Attorney Russell Goldsmith provides personal attention and oversight to each case.
We do our homework from the very beginning, assuring ourselves that we have obtained all of your relevant treatment and work background so as to formulate a plan of action to ensure that your case is presented fully and forcefully on your behalf. Our dedication to the interests of our clients will be obvious and you rest assured that we will not get pain a fee for the work performed unless and until you win.
Contact our office now out of Massachusetts location for your free consultation today at (800) 773-8622.
Law Offices of Russell J. Goldsmith
1500 District Avenue #3006
Burlington, MA 01803
Not only do we service the Lawrence, MA area, but also:
Andover, MA
Dracut, MA
Methuen, MA
North Andover, MA
Pelham, NH
Salem, NH
Tewksbury, MA
As well as the surrounding areas.