Portland, Maine Social Security Disability Lawyer
Legal Guidance for Portland Area Residents Pursuing Social Security Disability Benefits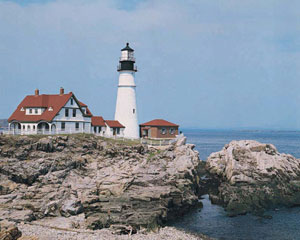 For over 34 years, Portland, Maine Social Security disability lawyer, Russell J. Goldsmith, has been representing Portland area residents and others in seeking the benefits that they need and deserve. Your disability case is a sensitive and important matter, and our legal team is dedicated to providing knowledgeable guidance with the personalized attention that your case requires.
Overview of Benefits Available from SSA
Social Security Disability Insurance (SSDI) is a government program designed to assist qualified individuals with disabilities who are unable to work. The program is funded through the Federal Insurance Contributions Act (FICA), and most workers are covered by SSDI through their payroll taxes. The monetary benefits for approved SSDI beneficiaries are determined by their work history and past earnings, and they may vary in different circumstances, such as if the applicant is receiving other forms of government assistance. On average, the SSDI benefits amount for disabled, non-blind workers is $1,260 per month, and approximately $2,110 per month for a family. Beneficiaries will receive benefits for as long as they are disabled, and they are subject to continuing disability reviews by the SSA.
In addition to monetary benefits, the program also provides other benefits. SSDI beneficiaries will be eligible for Medicare coverage after two years of being deemed eligible for a monthly disability check. And, under the Ticket to Work program, qualified beneficiaries can receive vocational training and other services to work at no cost to them. Family members of disabled workers, including spouses, parents, and children, may receive monetary assistance as well, under certain conditions.
Applying for SSDI
All SSDI applicants have the right to obtain legal counsel to represent them in the application and appeals process. This can be advantageous in securing benefits, due to the strict and often complicated requirements involved. To qualify, the applicant must be covered under SSDI and meet the federal definition of disabled. The Social Security Administration (SSA) will make initial determinations of eligibility based on the applicant's work history. Specifically, the earnings test requires the applicant to have worked long enough, and recently enough, in a job covered by Social Security. The SSA will also look at the applicant's income to see whether he or she is currently engaging in substantial gainful activity. Generally, if an applicant is earning more than $1,260 per month ($2,110 for blind individuals) in 2020 (or, for that matter, is deemed capable of earning such an amount of money, even if presently earning less), the SSA may find that the applicant is not disabled.
Once the preliminary requirements are met, Disability Determination Services (DDS) out of Augusta, Maine will decide whether the applicant meets the federal definition of disabled. Under the Social Security Act, an applicant is disabled if he or she is unable to engage in any substantial gainful activity as the result of a medically determinable physical or mental impairment, which has lasted or is expected to last for a continuous period of 12 months or longer, or result in death. DDS will review all of the medical evidence, including records, tests, medications, and other documentation, to determine whether it supports a finding of severe disability.
In order for the condition to be sufficiently severe, the applicant must generally be prevented from, or extremely limited in, performing basic work activities, such as sitting, standing, walking, and thinking. If the applicant's condition is in the Listing of Impairments, the claims examiner will determine whether it meets or equals the criteria provided. If so, the applicant will usually be granted SSDI benefits automatically (without the need to determine whether the claimant remains capable of performing their past work or other jobs), provided that the other qualifications are met. If not, the claims examiner will assess the applicant's residual functional capacity (to what extent the applicant remains limited as a result of their health conditions in terms of their ability to perform physical and mental activities necessary for the performance of different types of work) so as to determine whether the applicant could perform his or her previous work. If the claims examiner finds that the applicant is unable to do such work, the next step is to determine whether the applicant could engage in any other type of work, considering his or her age, education, work experience, and other skills. In addition, the impairment must last, or be expected to last, for a continuous period of one year or longer, based on the medical evidence. There may be other considerations for those who are minors or blind. Due to the individualized nature of each case, specific information can be learned from an experienced and knowledgeable Social Security disability attorney.
Contact a Portland Attorney to Handle Your Government Benefits Claim
In Maine, the employment rate for working-age (21-64 years) people with disabilities is only 34.1%. In 2012, the poverty rate was 33.2% for Maine residents with disabilities, compared to 11.7% for those without disabilities. If your disability prevents you from working, you may be eligible for benefits. SSDI lawyer Russell J. Goldsmith offers thorough, honest evaluations for people in Portland and the surrounding area who are applying for benefits, as well as guidance throughout the process. Contact the Law Offices of Russell J. Goldsmith to schedule a free consultation at 207-773-8622 or (800) 773-8622 or online.
Law Offices of Russell J. Goldsmith
97 India Street, Second Floor
Portland, ME 04101
We service the Portland, ME area, including but not limited to the following areas:
Biddeford, ME
Gorham, ME
Old Orchard Beach, ME
Scarborough, ME
South Portland, ME
Westbrook, ME
As well as the surrounding areas.