Saco, Maine Social Security Disability Lawyer
Guiding and Assisting Saco, Maine Residents With Their Social Security Disability Claims for More Than more than 34 years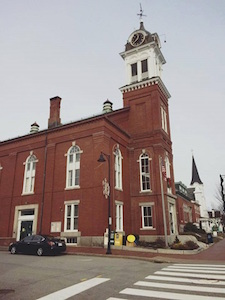 Nobody plans on becoming disabled from working. Unfortunately, when we do, it's all too common an occurrence that individuals remain unaware where to turn for the legal advice and assistance they need to move forward to get back on their feet. Few think to call a Maine Social Security disability lawyer. Federal long term disability benefits, called Social Security Disability Insurance benefits (SSDI) and Supplemental Security Income (SSI), are available to Saco, Maine residents as a form of wage insurance for those who become longer term disabled from working. The Social Security Administration defines long term disabled under its rules as meaning disabled from any manner of gainful employment (which has been defined as the inability to earn Substantial Gainful Activity, which for 2020 means simply $1260.00 per month on a regular and continuing basis) for what is expected to be a year or longer (or from a condition which is expected to result in death). Assuming one meets the definition of "disabled" under Social Security's rules, one can obtain a monthly benefit check under one of two programs: SSDI (Social Security Disability Insurance program) or the SSI (Supplemental Security Income) assuming they have been paying sufficiently through their payroll taxes into the Social Security system or, if not, remain otherwise qualified for the SSI program as their income and assets otherwise leave them under the Federal poverty line).
It is important to note that unless one feels capable of showing they will meet the duration requirement of being disabled a year or longer, an experienced Social Security attorney would tell you that an early application is not advisable: it will lead to a quick denial and the need to begin the appeals process. Given the next step in the process, called the request for reconsideration process, carries with it a very high denial rate (yet requires one to go through what is typically a 4 to 6 month process), it will likely be necessary to go through a Request for Hearing Process before an Administrative Law Judge at the Portland Office of Hearing Operations as well. Thus, in deciding when to initiate a filing for Social Security disability claim, it is in one's best interest to get a detailed analysis as to the viability of their claim from the very beginning by calling an experienced Social Security law firm.
Assuming however, it does become necessary to initiate an early claim given one may be entitled to benefits under the SSI program (which will pay the month after one applies, assuming one ultimately shows that they meet the 1 year "disabled from gainful employment" duration requirement, an application can be undertaken by either calling Social Security Administration at 1-800-772-1213. Likewise, the Saco, Maine Social Security office serves Saco, Biddeford and the surrounding York County communities and is conveniently located at 110 Main Street in Biddeford.
A number of other options remain available for interim assistance for those who otherwise are not aware of where to turn for assistance. The City of Saco does have a General Assistance office located at City Hall which provides cash assistance to those who are in need. City residents who remain unable to meet such basic necessities as housing, their electric or heating bills or food may qualify for some manner of cash assistance and can apply for such benefits by calling 282-8206 or 284-4831 to set up an appointment with the office. Energy assistance is likewise available through the Citizens Energy Corporation at 1-877-563-4645. The Maine Department of Health & Human Services in many circumstances can provide state assistance to families in need of applying for food stamp assistance and Medicaid assistance through the Mainecare program and can be reached at 286-2400 or at 1-800-322-1919.
Another valuable organization to the York County Community is York County Community Action which has programs available to assist those in need with energy assistance, children's services, housing assistance, transportation to those who otherwise have no manner of getting to their doctors or other appointments and medical assistance through the Nasson Health Care program (among other forms of assistance). One of their offices is conveniently located nearby at 15 York Street in Biddeford, Maine (and can be reached at 283-2402).
Should it become clear that your medical conditions will be keeping you from working for a longer period of time, seeking the assistance of a Social Security Lawyer to guide you through the complex maze of rules and regulations is well advised. At the Law Offices of Russell J. Goldsmith, we can help you decide whether an application is the right route for you and, if you have been denied already, we stand ready to assist you with your appeal and fight for the benefits you need.
Call now at 207-283-1700 or (800) 773-8622 to see how we can be of assistance to you. You can contact us online now at:
Law Offices of Russell J. Goldsmith
97 India St, 2nd Floor
Portland, ME 04101
We service the Saco, ME area, including but not limited to the following areas:
Alfred, ME
Arundel, ME
Biddeford, ME
Dayton, ME
Kennebunk, ME and Kennebunkport, ME
Lyman, ME
Old Orchard Beach, ME
Sanford, ME
Waterboro, ME
As well as the surrounding areas.