Boston, Massachusetts Social Security Disability Lawyer
Legal Advocacy for Boston Area Residents Seeking Social Security Benefits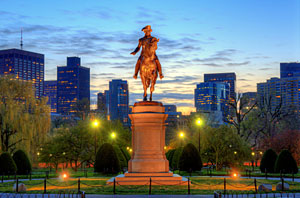 The unemployment rate for individuals with disabilities living in Boston is 19.7%, according to the U.S. Census Bureau. Unfortunately, the poverty rate among this group is also high, at 35.9%. The Law Offices of Russell J. Goldsmith provides legal representation to people applying for Social Security Disability Insurance (SSDI) benefits, who are unable to work due to various mental or physical conditions. With over 33 years of experience handling Social Security claims, Attorney Russell J. Goldsmith has been representing Boston's disabled in their Social Security disability claims and appeals.
Overview of the SSDI System
Social Security Disability Insurance (SSDI) is a government program that provides financial support to workers with long-term disabilities of one year or more who cannot work. It is funded by Federal Insurance Contributions Act (FICA) taxes, which are paid by both employees and employers from their payroll taxes. Once they are approved for benefits, SSDI beneficiaries will receive Medicare coverage after two years. In addition, beneficiaries may be eligible for education and training assistance, as well as work incentives, which allow them to test their ability to work without losing their benefits. Family members of disabled workers may also receive benefits, if certain eligibility requirements are met, including spouses, parents, and children. To qualify for SSDI benefits, an applicant must meet the non-medical and medical requirements.
Non-Medical Requirements
The major non-medical requirement for SSDI benefit eligibility involves the applicant's work history and age to determine whether he or she is insured for purposes of SSDI. In determining whether an applicant has met this "earnings requirement," the Social Security Administration (SSA) uses a system of work credits. Based on the applicant's age, he or she must have worked for a certain number of years within the period of time before the disability. Individuals who are 31 and over, for example, must have worked for five out of the 10 previous years before becoming disabled. In addition, the applicant must be employed in a job covered by Social Security for a certain amount of time, based on age. Applicants who are blind and those who are younger may also have different requirements. For more specific information, including other non-medical requirements that may pertain to you, it is helpful to discuss your situation with a an experienced and knowledgeable Social Security attorney.
Medical Requirements
Once the SSA determines that an applicant meets the non-medical requirements, it will send the claim to the Disability Determination Services (DDS) office (out of Boston, MA) for a decision on whether the applicant's condition is a "disability" as defined by the Social Security Act. Specifically, the applicant must be unable to engage in any substantial gainful activity due to a medically determinable physical or mental impairment that is expected to last for a continuous period of one year or longer, or result in death. A medically determinable impairment means the applicant's condition must be verifiable by diagnostic testing or other medically accepted techniques. The disability must be one that is severe, preventing or limiting the applicant from doing basic work-related activities, such as moving, sitting, or thinking.
DDS will look to the medical evidence to evaluate whether the applicant's condition prevents him or her from working in his or her previous jobs, as well as whether the applicant is unable to do any other kind of work, considering his or her medical condition, age, work experience, education, and other factors. It is important to understand that while an applicant may be earning some income, in order to be eligible for SSDI benefits, the applicant cannot be engaging in substantial gainful activity. Generally, if an individual makes more than the monthly limit provided by SSA, he or she will be considered engaging in substantial gainful activity. For 2019, the monthly limit is $1,260 for most applicants, and $2,110.for statutorily blind individuals. For 2021, these figures are increasing to $1310 for non-blind disabled individuals and $2190 for those who are blind.
Finally, the medical evidence must show that the disability is long-term, which means that is expected to last for a period of 12 months or longer, or result in death. There are also special rules regarding people who are blind or have low vision, which a Social Security attorney can explain further.
Seek Guidance From an SSDI Attorney in the Boston Area
At the Law Offices of Russell J. Goldsmith, our legal team represents disabled individuals in the Boston area who are seeking SSDI benefits. Russell J. Goldsmith is a lawyer who understands the importance of listening to your concerns and answering any questions you may have about the application process. Schedule a free consultation by calling (800) 773-8622 or contacting us online.
Law Offices of Russell J. Goldsmith
1500 District Avenue #3006
Burlington, MA 01803
We service the Boston, MA area, including but not limited to the following areas:
Chelsea, MA
Everett, MA
Malden, MA
Medford, MA
Melrose, MA
Reading, MA
Revere, MA
Somerville, MA
Winchester, MA
As well as the surrounding areas.