Manchester, New Hampshire Social Security Disability Lawyer
Social Security Attorney Helping Disabled Individuals in Manchester and Surrounding Areas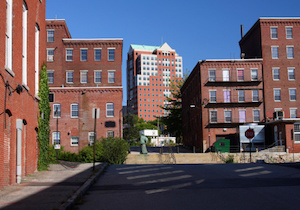 At the Law Offices of Russell J. Goldsmith, we provide personalized legal services for Manchester residents and those throughout New England seeking benefits based on a disability. Manchester, NH Social Security lawyer Russell J. Goldsmith has over 33 years of experience in this area of the law. Our legal team can work with you in handling the SSDI application and appeals process, while answering any questions you may have.
Information Regarding SSDI Benefits
Social Security Disability Insurance (SSDI) provides financial assistance to individuals who are unable to work due to long-term disabilities. Funded by the Federal Insurance Contributions Act (FICA), SSDI covers most employers and employees who pay FICA taxes out of their paychecks. In addition to monthly financial support, the program also provides benefits such as Medicare coverage (after two years of receiving disability benefits), education and training assistance, and work incentives that test a beneficiary's ability to work without taking away benefits. Family members of disabled workers, such as spouses, parents, and children, may also be eligible for financial benefits.
For qualified and approved SSDI beneficiaries, the monthly benefit amount varies depending on their past earnings and work history. The average SSDI benefit amount for a disabled, non-blind worker is approximately $1,258 a month, and benefits for family members are available as well in most cases for both the minor children and for the spouse who is caring for a child under the age 16. It is important to note that the amount of a beneficiary's SSDI benefits may be affected if he or she is on other types of government assistance. In addition, benefits may be discontinued if the beneficiary is incarcerated for a criminal charge for which they have been sentenced or have an outstanding warrant for a felony charge or in other circumstances where one is a fugitive from justice or has an outstanding warrant for a violation of probation. Generally, simply a felony conviction will not disqualify one from benefits, however there are a few exceptions to the rule.
Qualifying for Government Assistance
An applicant seeking SSDI benefits must meet an earnings requirement and the disability requirement. The earnings requirement addresses whether the applicant has worked long enough, and recently enough, in a job covered by Social Security. The Social Security Administration (SSA) utilizes "work credits" to determine eligibility, as well as published tables with criteria based on the applicant's age. Other preliminary considerations include the applicant's age, which must be younger than retirement age, and the applicant's income from work activities. While an applicant can be earning money and still qualify for SSDI benefits, the SSA will generally find that an applicant making more than the published limit is engaging in substantial gainful activity. For 2020 the limit is $1,310 per month for most applicants, and $2,110 for blind individuals. In addition, applicants who are blind, those who are younger, and others with special situations may have different requirements, which can be discussed with an experienced Social Security attorney.
One of the pivotal steps in the application process is proving that the applicant's condition qualifies as a disability under the federal definition. The Social Security Act provides that an individual is disabled only if he or she is unable to engage in any substantial gainful activity due to a medically determinable physical or mental impairment, expected to last for a continuous period of one year or longer, or result in death. Disability Determination Services (DDS) out of Concord, New Hampshire will evaluate the medical evidence, which includes the applicant's medical history and records, medications, and possibly other documentation, in making its decision. An applicant's condition must be shown by medically acceptable clinical and laboratory diagnostic techniques. DDS will then consider whether the condition is severe enough to qualify. Typically, this tends to mean that the applicant's impairment prevents him or her from performing basic work functions, or strictly limits the applicant in doing so. Not only must the applicant be unable to do his or her previous work, but also the claims examiner will decide whether the applicant could do other kinds of work, considering his or her condition, age, experience, education, and other factors. The medical evidence must also establish that the disability is expected to last for a continuous period of one year or longer. And, once again, for blind applicants and minors, there are other special rules, which are better off being explained on a case by case circumstance by an experienced Social Security attorney.
Discuss Your SSDI Application With a Manchester Lawyer
In New Hampshire, the employment rate for people with disabilities is only 37.9%, as compared to 80.5% for those without disabilities. The percentage of New Hampshire residents with disabilities who are currently receiving SSDI benefits is 62.5%. If you are unable to work due to a disability, you may be eligible for benefits, and you are entitled to legal representation throughout the benefit application and appeals process. SSDI attorney Russell J. Goldsmith offers individualized assistance to people in the Manchester area who are seeking benefits or appealing a denial of a claim. For a free initial review of your case, schedule an appointment by calling either 603-624-0001 or (800) 773-8622 or reaching us online.
Law Offices of Russell J. Goldsmith
3 Executive Park Drive, Suite 262
Bedford, NH 03110
We service the Manchester, NH area, including but not limited to the following areas:
Bedford, NH
Derry, NH
Goffstown, NH
Hooksett, NH
Londonderry, NH
Merrimack, NH
Weare, NH
As well as the surrounding areas.